Gloucestershire's outdoor education provision to change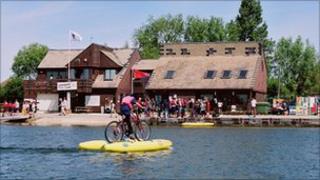 One outdoor education centre is set to be sold and another could be leased, as part of a £45m saving plans by Gloucestershire County Council.
The Wilderness Centre in Mitcheldean, the Forest of Dean, is recommended to be put on the open market.
And a "specialist provider" could take on responsibility of running water sports for youngsters at South Cerney.
However, local users have revealed they are to make a community bid to take on the lakeside site themselves.
The Conservative-run council said the facilities were costly to subsidise and maintain in a "difficult financial climate".
As the most economically viable site, it said, the South Cerney centre could be offered to a new owner on a 125-year lease, meaning outdoor education could continue there and staff could potentially be kept on.
Councillor Will Windsor-Clive said: "We cannot afford to continue to run these sites ourselves and the money from their sale will help us significantly reduce our debt, so we will look to achieve the best possible price."
Business plan
"Young people will continue to access outdoor and environmental education through their schools, who already mostly buy in these services from other providers."
He said the council was keeping an open mind about potential buyers for the Wilderness Centre and its three associated sites at Buckstone, Plump Hill and Pwll Du.
But Trevor Roach, secretary of the friends of the centre said: "The councillors, when they ratify this decision on 18 May, have to realise that this one-off injection of funding is going to damage the environmental education opportunities for generations to come in Gloucestershire."
Users of the South Cerney outdoor education centre - also concerned about the changes - have put together their own community bid to run the water sports site.
The Lake 12 partnership, which is made up of groups such as the Thameswey Canoe Club, Cirencester Dolphin Sub-Aqua Club and Navy Training Corps will reveal its business plan at South Cerney village hall on Friday evening.
Secretary Paul Gibson said: "We have worked very hard to come up with a detailed and professional plan to maintain Lake 12 for community use.
"We will be seeking charitable status to ensure that all operating surpluses are used to develop the facilities and to enable us to access funding streams where necessary."