Jet aeroplane journey recreated for 70th anniversary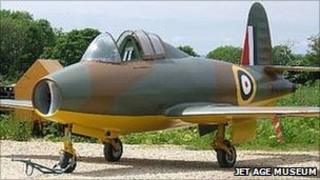 A replica of the UK's first jet aircraft is to be transported to Lincolnshire to commemorate the 70th anniversary of the first jet flight.
The model of the Gloster E28/39, owned by The Jet Age Museum in Gloucester, will take part in the event at RAF Cranwell this weekend.
In May 1941 the original prototype made the same journey before its first official flight.
The aeroplane was fitted with Sir Frank Whittle's revolutionary new engine.
A full-size fibreglass model, currently in storage at Brockworth, will be transported to RAF Cranwell on Thursday, recreating the journey made by the E28/39 from the Gloster Aircraft Company factory 70 years earlier.
The original aircraft had already made a series of 200 yard (180m) hops along the runway at Brockworth airfield during taxiing trials but on 15 May 1941 it left the Lincolnshire runway for a 17-minute flight, heralding the birth of the jet age in the UK.
Accompanying the aircraft as an invited guest of honour will be 92-year-old Sidney Dix from Longlevens, Gloucester.
Mr Dix is the last known surviving GAC employee who worked on the E28 project and was present at Cranwell for the first historic flight.
Jet Age Museum trustee Tim Kershaw said: "Sidney is delighted to have been invited back to Cranwell after all these years and it's our privilege to have him with us."
After the event, the E28 will return to Gloucestershire Airport, Staverton, where the museum has planning permission for a permanent home for their collection.