Camilla plants Wedding Cake tree in Tetbury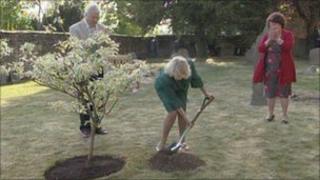 The Duchess of Cornwall has planted a Wedding Cake tree in Tetbury to mark the marriage of Prince William and Catherine Middleton.
Camilla, who lives with Prince Charles at nearby Highgrove, planted the sapling at St Mary's Church.
It is nicknamed wedding cake due to its horizontal, tiered branches and star-shaped white flowers in the summer.
The tree was donated by the Tetbury Evening Women's Institute, of which the Duchess is a member.
The Duchess told guests: "I hope that this tree will remind everybody in Tetbury of a wonderful and special day.
"I am thrilled to be able to plant it."
Also known as Cornus controversa, the deciduous tree comes from Japan and Korea.
Tetbury in Bloom will help maintain it over the coming years.