Stephen Morris reviews The Roving Crows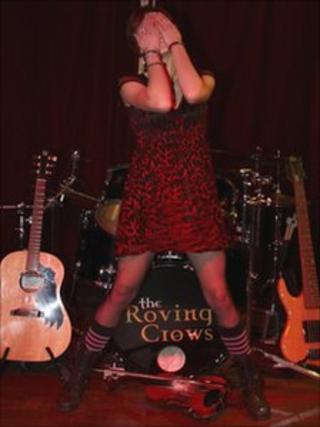 I recently received an email. This isn't necessarily newsworthy in itself.
I receive many emails in the course of a day, usually from online shops recommending I buy something I already have or would never want, or from a social networking site telling me I've received a message I've already read, from someone I don't actually know.
In this instance it was an email from an actual person responding to a recent review of Pholk Law I wrote for these pages. A section of the email read as follows:
"Your article on Pholk Law kept referring to them, and others, as folk performers; simply not true.
"They are I agree very good musicians, but folk? I think not. Their brand of St Paddy's Day Boston Irish pop music does appeal to a big audience, but has little relationship (apart from the odd set of jigs) to authentic Irish folk and traditional music."
Folk music is, though, one of the broadest of churches.
As with any other genre of music, from jazz to classical and back through to pop and rock, there is a spectacular array of sub-genres, each attracting their own purists who dismiss rival sub-genres as heretical, heartlessly betraying the true spirit of the genre. Whatever that truly is.
'Judas'
Sadly, it was always thus.
Ewan McColl, one of the founding fathers of the folk revival in the late 1950s and early 60s, dismissed guitars and banjos as "intolerable" in folk music and, by extension, all forms of music.
Meanwhile, more famously, Bob Dylan was labelled "Judas" by folk aficionados when he controversially went electric.
The sheer scale and breadth of diversity within folk can be easily seen in Gloucestershire alone.
Not all styles within these sub-genres will appeal to everyone.
No doubt, McColl would be almost as dismissive of Pholk Law as he would be despairing of the contemporary folk-meets-country-and-punk act, Jim Lockey and the Solemn Sun - both of whom clearly feature the dreaded guitar.
'Welcome infusion'
But what can't really be denied is that these bands do indeed feature folk performers, bringing this ever-evolving form of music - quite literally music of the people - to the people.
Which makes it all the more democratic and, well, quite fantastic really.
And so, finally, we come to the excellent Roving Crows, an Irish Folk act featuring members from Cheltenham and further afield.
As with Pholk Law, the band bring their love of traditional Celtic music to a big audience.
Where they differ is in their more up tempo tunes and the welcome infusion of other styles to their songs.
The Roving Crows have a new, eponymous CD out. And it really is very, very good.
Last year's MySpace content, as reviewed elsewhere on this website, was a mixture of traditional folk song covers and self-penned songs in the Irish folk style.
'Uplifting'
On the new CD, the bias is skewed more towards original material, the only traditional folk tune being White Petticoat, a jig which builds up slowly from a gentle fiddle solo with the addition of a trumpet to an intense whirlwind of joyousness featuring the whole band.
Of the remaining five songs, four of them are some of the most uplifting tracks you could hope to hear.
Neither sentimental nor cheesy, they cover themes of following dreams, offering loved ones help and looking to the future, unimpeded by the past.
It's an unusual blend of pragmatism and optimism, more usually seen as direct opposites, which help the songs on their way.
More Than One is a typical example. Its message is simple: put things down to experience and concentrate on the main thing, that: "if there's one person you can help every day, including yourself, do it, do it, do it!"
The exception is Brother in which a woman mourns the loss of her sibling: "Brother, don't you know, didn't want you to go/You didn't even say goodbye".
'Styles run riot'
The music itself is a wonderful melange of Irish folk with music from across the world.
Opening track, Long Time Dead starts off with a dramatic trumpet blast from newcomer Gregory Wilson-Copp then takes on something of a Billy Bragg meets Bob Dylan-esque quality before Paul O'Neill lunges into scat singing more usually associated with Louis Armstrong.
It's like something out of The Jungle Book. The song is like a cross between an Irish jig and a New Orleans funeral march - not something you come across often.
The fusion of styles runs riot throughout the EP with the soundtrack of a Mexican stand-off, complete with snake rattle (Brother') followed a couple of tracks later by a Romany gypsy sound similar to that of Mahala Rai Banda in More Than One.
The Roving Crows will take you across the world and back again in the space of 25 minutes, never forgetting their Irish roots.
The addition of Wilson-Copp's trumpet to match-up with Caitlin Barrett on fiddle provides an extra depth and texture to the music helping to take The Roving Crows' music to newer jazzier, trans-Atlantic climes.
'Catch them live'
What Bellowhead are doing for traditional English folk music, The Roving Crows are trying to do with music from across the Irish Sea.
And that can be no bad thing.
Word has it that following their appearance on the BBC Introducing Stage at Wychwood Festival last year (where I can personally vouch they were fantastic), The Roving Crows are heading over to the main stage this year.
So if you're going to Wychwood this year, be sure to catch them. And if not, at the very least, get the CD - or catch them live somewhere else.
They really are very, very good. But I think I already said that.
I will now check my emails - with a due sense of caution and dread.