Calls for Battle of Stow Civil War site to be surveyed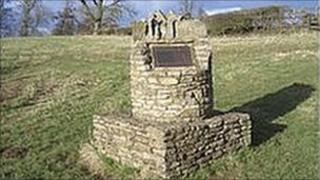 Historians in Stow-on-the-Wold are to apply for lottery funding to try to establish the exact location of an English Civil War battle.
Doubts over the position of the battlefield were raised after a monument was erected three miles (5km) north-west of the town in 2002.
Experts say investigations suggest the site was closer to Stow itself.
More than 100 people attended a meeting of the town's civic society on Tuesday night.
The Royalist defeat against the Parliamentarians at Stow, in March 1646, was the last major battle of the first English Civil War.
Simon Marsh, of the Battlefields Trust, said it was important to discover the true location "so we can look after and manage the battlefield".
"If we don't know where it is then there is a risk, particularly from metal detecting, of people destroying the archaeology that is there," he said.
Local folklore
The siting of the current monument on a hill, outside the nearby village of Donnington, was based on the discovery of some lead shot and also local folklore.
Doubt was cast when the Stow and District Civic Society started to investigate how to improve access for visitors to the battlefield.
Spokesman Tim Norris said the most likely place for the battle was closer to Stow: "We think [the Royalists] couldn't have escaped on foot from [the present monument location] to Stow without being overtaken by the Parliamentarian cavalry."
"English Heritage feel the battle must have been a lot nearer the town on much more open land."
The Battlefields Trust will now put together a Heritage Lottery Fund bid for £50,000 which will allow a full survey designed to define precisely where the battle did take place.
They hope to start work on establishing the exact location of the site in the Autumn.