Royal teeth X-rays withdrawn from Cirencester auction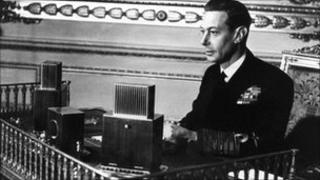 Dental X-rays of the Queen's family have been withdrawn from auction at the request of the Royal Household.
The 18 images of Elizabeth II's teeth, together with those of her mother and father, King George VI, were taken between 1942 and 1946.
The X-rays were found in a house in Leatherhead, Surrey and were due to go under the hammer on Wednesday.
But Dominic Winter's auction house in South Cerney, Gloucestershire, has been asked to remove the lot from sale.
The company's historic memorabilia specialist, Chris Albury, said: "We are somewhat surprised and disappointed on behalf of royal memorabilia collectors everywhere that these dental X-rays have had to be pulled from sale.
"We were contacted by lawyers acting on behalf of the Royal Household who pointed out that these X-rays, however old, still belong to their clients' families and that the right of privacy for medical records survives death.
"It's pure chance that these X-rays were not destroyed 50 or more years ago when the dentist's records were disposed of."
Heavy smoker
Stephen Hancocks, editor-in-chief of the British Dental Journal, examined the X-rays of King George VI's teeth and said: "The X-rays indicate that the King had good teeth for a man of his age. There is some evidence of bone loss which may be due to gum disease, possibly linked to smoking, as he was known to be a heavy smoker."
He added there was no way anybody could tell from an X-ray whether or not teeth caused a speech impediment such as George VI had, which mаdе hіm the subject οf Oscar-winning film, Thе King's Speech.
Mr Albury said: "After much research we established that these X-rays originated from the dental practice of Aldred & Freeth at 88 Park Street in Mayfair."
The X-rays and their inscribed envelopes were discovered amongst tonnes of junk abandoned in the house in Leatherhead.
New owner, Alastair Sealy, sorted through the debris and found two boxes of dental filing cards and further wartime dental X-rays of Queen Elizabeth, Princess Elizabeth and Queen Wilhelmina of Holland.