Demolition of Cheltenham fire station under way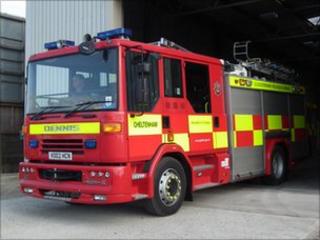 Work has begun to demolish the existing Cheltenham fire station as part of the £40m project to improve the fire and rescue service in Gloucestershire.
A temporary station at Kingsditch Lane will house Cheltenham's fire engines for a year while the Keynsham Road station is redeveloped.
Four new community fire stations and a life skills centre will be built.
Chief fire officer Jon Hall said: "We will be able to get to more of those that need our help even faster."
Demolition work has begun on a redundant county council building on Shepherd Road, Tuffley, to make way for the new Gloucester Fire Station and a life skills centre.
A new station is also being constructed at Cheltenham Road East, Churchdown; while work will begin on the new station at Uckington, near Cheltenham, in May.