Gloucester regiment is given freedom of city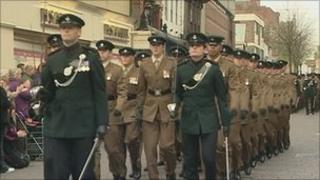 A service has been held at Gloucester Cathedral to honour the Rifles Regiment, who were granted the freedom of the city.
The honour was bestowed on the entire Rifles Regiment in a short ceremony at the city docks.
The cathedral service also marked the 60th anniversary of the Battle of Imjin River during the Korean War.
Gloucester's mayor Janet Lugg said it was important the city remembered its soldiers.
'Highest honour'
"For them it means they have people thinking about them and follow them wherever they are deployed.
"Quite a few of them have been sent off to Afghanistan who were originally meant to come to the freedom march.
"We think of them and they think of us and we are very proud of them," she added.
Lt Col Nick Norton, commanding officer of 4 Rifles said it was a busy time for the army.
"When you come round the corner and the crowd start cheering it makes it all worthwhile.
"It's a tremendous thing to be part of," he added.
The parade started at 0930 BST at the Victoria Basin Dock where all seven battalions of The Rifles Regiment was awarded the freedom of the city.
Councillor Lugg said the city had a long-standing connection with the military.
"We are incredibly proud of what they do for our country. This is the highest civic honour we can bestow on them," she said.