Gloucestershire's cheese rolling cancelled after abuse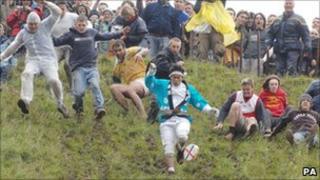 Gloucestershire's famous annual cheese rolling has been cancelled after organisers said they had been threatened with violence.
The event was called off in 2010 after concerns about safety because of the number of spectators it attracts.
Plans for a new two-day event, with tickets costing £20, were announced in January but organisers said the public backlash had made it unworkable.
Organisers said they had been spat at and threatened with violence.
They now fear the event, which dates back hundreds of years, will die out.
'Brick threat'
Cheese Rolling Committee spokesman Richard Jefferies said: "We have decided very reluctantly that expanding the event to create a ticketed two-day festival is unworkable.
"Since we announced an entry fee, we have been bombarded with so much hostility and criticism, much of it at a personal level, including accusations of profiteering and some of the committee have even received threats.
"People have been spat at in the street, received verbal abuse in shops and at school gates and there has even been talk of bricks through windows and houses being burned down.
"We have also endured a torrent of online criticism and abuse from cowards who failed to identify themselves by hiding behind false identities. It has been horrific."
Organisers said the event could not have carried on in its existing form.
When it was last run in 2009 about 15,000 people turned up to the venue at Cooper's Hill, Brockworth, which is only suitable for about 5,000.
"It was absolutely chaotic, the traffic jams were horrendous and that is why the local authorities told us the event had to change," said Mr Jefferies.
In recent years the cheese rolling has been held on the Spring Bank Holiday.
The new two-day festival had been planned for the weekend of 11/12 June this year.