Water voles extend range in Gloucester after floods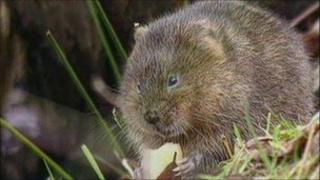 Water voles have extended their range in a Gloucestershire nature reserve after a number were killed during the devastating floods of 2007.
The rodents have suffered an 83% decline in the county in 20 years.
A Gloucester City Council spokesman said landscaping work had been carried out in another part of the Netheridge Nature Reserve.
He said a recent inspection has shown evidence that water voles have moved in.
In 2008, 70 voles were placed in release pens where they could slowly dig their way out before finding their own way to the reserve.
The scheme is part of the council's Severnside Project, set up to conserve the water vole.
A site in the reserve was surveyed, managed, cultivated and monitored for three years before 60 young water voles were released in August 2005.
But many fell victim to the floods of summer 2007.
Netheridge Nature Reserve is managed by the council on behalf of the owners, Severn Trent Water.