Chancellor approves Kemble to Swindon railway upgrade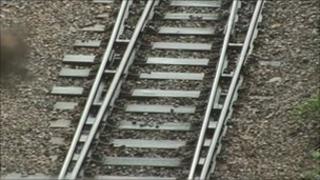 Chancellor George Osborne has given the go-ahead to the long-awaited redoubling of the Great Western railway line between Kemble and Swindon.
Supporters of the multimillion-pound project were concerned it would fall victim to government spending cuts.
Doubling the line from single-track to a two-way service will cut a bottleneck on the Cheltenham to London route.
Mr Osborne said savings in the Department for Transport had made it possible to commit to the scheme.
He added that it would complement the electrification of the Great Western Line between London and Wales.
Geoffrey Clifton-Brown, Conservative MP for the Cotswolds, said Network Rail had recently submitted a new feasibility study which demonstrated that the project could be completed for £41.7m instead of the original £52m.
"I'm obviously absolutely delighted, having campaigned long and hard for seven or eight years on this issue, to finally get the news that it's going ahead," he said.
'Wonderful news'
"It's wonderful news for the people of Gloucestershire. I think it will make a huge difference to Gloucestershire businesses and rail travellers."
Cheltenham's Liberal Democrat MP Martin Horwood said it was "very welcome news".
"I think the electrification played a crucial part in it, because if you electrify the line through to Bristol and South Wales and make that a faster route, you need some back-up.
"Of course, the current line can't provide that because it's a single track. Redoubled, it will be able to, so I think that electrification plan was a crucial last piece in the jigsaw."
Chris Irwin, chairman of the public transport passenger watchdog TravelWatch SouthWest, said: '"We have been waiting over 40 years for the colossal error of reducing the Kemble to Swindon railway line to a single track to be corrected.
"The voice of the long-suffering passengers has finally been heard."
The section between Swindon and Kemble was "singled" in the late-1960s as a cost-saving measure by British Rail, under agreement with the government.
The limitations have led to regular delays and cancellations to passenger services, Network Rail said.
Spokeswoman Mavis Choong said: "The value-for-money plan for the line between Swindon and Kemble will unlock the potential to bring more trains and better performance for passengers in Gloucestershire, Wiltshire and south Wales.
"We will now move to finalise the design plan with an aim to put the first spade in the ground soon."
Transport secretary Phillip Hammond said: "Dualling the 12.5 miles of track between Swindon and Kemble will support the introduction of new Intercity express trains, improving reliability and underpinning a reduction in journey times between London and Cheltenham and Gloucester of up to 20 minutes.
Work on the scheme is expected to be complete by spring 2014.