Uley Brewery makes ale to commemorate Korean War battle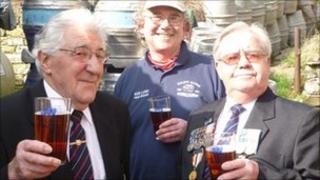 A Cotswold brewery has produced an ale to commemorate the 60th anniversary of the Battle of Imjin River.
Glorious Glosters Ale celebrates an encounter in Korea in April 1951 in which 750 soldiers of the Gloucestershire Regiment held out despite being outnumbered.
The drink, produced by Uley Brewery, was launched by veterans of the battle.
Phil Miller from the Glosters Regimental Association said: "We see it as a particular honour."
The Battle of Imjin River saw the Gloucestershire regiment surrounded and outnumbered by Chinese and North Korean troops.
Cut off from the rest of their infantry who were in retreat, they fought back to back, before survivors were taken as prisoners of war.
'Special affinity'
Some of the veterans who were taken prisoner will be among the first to try the brew.
"It's fitting that they will be able to sample the beer," said Mr Miller.
Uley Brewery owner Chas Wright said he felt a special affinity with the Glosters.
"The late Rev Sam Davies MBE was padre to the Glosters at Imjin and was himself taken prisoner along with the wounded," he said.
"When he finally returned to civilian life he became Vicar of Uley and maintained his close links with the regiment."
Veterans will return to Korea for the 60th anniversary of the Battle of Imjin River next month.