Ticket prices for new cheese rolling festival announced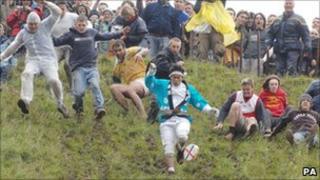 Tickets for the new-look Cooper's Hill Cheese Rolling Festival, in Gloucestershire, have been priced at £20 for an adult.
The historic festival in Brockworth has been made a ticketed event in a move to save it.
Last year's contest was cancelled amid fears over traffic and crowd safety.
A total of 5,000 tickets will be available each day, with those for children aged five to 13 costing £15 and under-fives going free.
An enclosed area at the bottom of the hill will remain free-of-charge and the races will be shown on large screens.
The centuries-old tradition, which sees people chase cheeses down the hillside, will be held on 11 and 12 June.
Previously held on Spring Bank Holiday Monday, the festival was the victim of its own popularity in 2009 when 15,000 spectators turned up to a venue equipped to hold only 5,000, resulting in the cancellation of the 2010 event.
'Tradition would die'
Committee spokesman Richard Jefferies said: "We were told by the local authorities that the event must change if it is to continue.
"This meant introducing a comprehensive traffic and crowd control plan, limiting the amount of people on the hill.
"Once you try and restrict the spectators, you have to introduce perimeter fencing and security arrangements which are unfortunately all very expensive and we have to find a way to pay for it.
"The committee are all local people themselves and are just passionate about keeping the age-old tradition alive."
Mr Jefferies added: "We're aware that introducing a spectator's fee to those who wish to watch hillside is a sensitive subject and is going to cause upset amongst some local people.
"With this is mind, we have carefully worked out the lowest cost possible."
He said it was a not-for-profit event and that any additional money would either be put towards running the 2012 event or ploughed back into the local community.
"It's important to stress once again that without imposing the extra health and safety measures, which all come at a considerable cost, the Cooper's Hill Cheese Rolling Event will not go ahead and eventually the tradition would die," Mr Jefferies said.