Woodchester Mansion stone carvings restored by students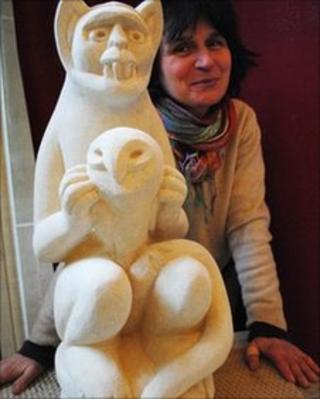 Stonemasonry students from City of Bath College have been helping to restore a Gothic mansion in Gloucestershire.
During the 10-week project trainees worked at Woodchester Mansion near Stroud, which is a Grade I-listed building.
It was mysteriously abandoned during construction in 1873 and never finished.
The students' work includes new carvings for the mansion's roof along with other areas of the building.
Carvings at Woodchester Mansion are considered to be among the best in the world.
The project was a partnership between City of Bath College and the Woodchester Mansion Trust which looks after the building.
One of the students, Jitka Palmer, unveiled a new Gothic-inspired carving called Wooster, which is due to be installed alongside others on the mansion roof.
Jitka said: "Working at Woodchester Mansion has been an incredible experience. It's the perfect place for a stonemason to work and learn.
"These kind of opportunities are the reason that I chose to study stonemasonry."
Stephen Davis, chairman of the Woodchester Mansion Trust, said: "This has been a wonderful and successful project.
"Working with City of Bath College we have pioneered the on-site training of student masons."
Woodchester Mansion has been saved from dereliction and partially restored, but it will never be completed beyond the point at which construction was abandoned, the trust said.