New Gloucestershire cheese rolling plans announced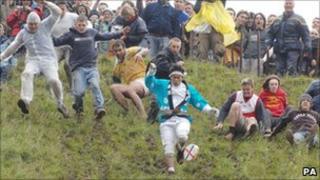 Gloucestershire's historic cheese-rolling event is to be held over two single days in June, it has been announced.
The cheese rolling committee has revealed revised plans for a ticketed festival at Coopers Hill in Brockworth in a move to save the event.
Plans for overnight camping and live bands that were proposed for this year have been dropped.
Last year's contest was cancelled amid fears over traffic and crowd safety.
In 2009, some 15,000 spectators turned up at Cooper's Hill - a site only suitable for 5,000.
The centuries-old tradition sees people chase cheeses down the hillside.
The committee has said that to survive, the event needed to change dramatically.
It had said it needed to expand into a professionally-organised two-day festival with live bands, country crafts, traditional games and overnight camping.
'Licensed bar'
But some residents expressed concern at the plans.
The committee has now reviewed its proposals following a public consultation in January.
A spokesman said the event would be held on 11 and 12 June. It was previously held on Spring Bank Holiday Monday.
Games such as shin kicking, tug of war, gurning and ducking for oranges will also be reintroduced. A licensed bar will be included.
Committee spokesman Richard Jefferies said the organisation had listened to the community "at every avenue possible" and would continue to consult with them.
He said tickets would go on sale online later in March.
"We have spent much time considering ways in which we make revenue to put the necessary safety measures in place in order for the event to take place," he said.
"The reality is if we do not raise enough funds through ticket revenue and sponsorship the event will just not happen."