Rugby star Olly Barkley's tweets 'disappoint' hospital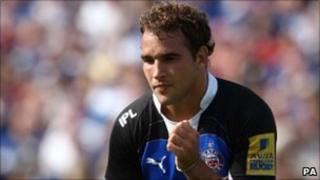 A Gloucester hospital has said it is "disappointed" following criticism from rugby star Olly Barkley.
The Bath and England fly-half was taken to Gloucestershire Royal Hospital on Sunday after breaking his leg during his club's game at Kingsholm.
Barkley, 29, used Twitter to post messages complaining about "flatulent" patients and a wait for morphine .
The NHS trust that runs the hospital said: "We invite him to speak to us about his concerns".
"We would encourage him to contact our Patient Advice and Liaison Department."
Out for season
The player claimed on Twitter that he had to wait for 40 minutes for morphine at the hospital, after suffering a double break in his leg, during Bath's 34-22 defeat by Gloucester.
He also said he was kept awake by other patients' flatulence after being "moved to the gastrointestinal ward due to lack of space".
Although the player concluded "NHS - work in progress" he did also comment that the staff at the hospital were "stars" on his Twitter feed, which is followed by more than 8,000 people.
A spokeswoman for Gloucestershire Hospitals NHS Foundation Trust said: "We are disappointed to hear that Mr Barkley was unhappy with the care he received at Gloucestershire Royal Hospital.
"Gloucestershire Hospitals is committed to providing high quality and safe care for our patients."
On Wednesday, Barkley used Twitter to pay tribute to consultant surgeon Chris Curwen, who treated him, and the "lovely staff at Gloucester hospital".
"You do an amazing job on limited resources", he posted, before joking that the facility's "porridge needs work " - admitting that his earlier comments about "flatulence" were tongue-in-cheek.
Barkley's two-day stay in the Gloucester hospital ended on Monday, when he was transferred to the private Circle Bath Hospital at Peasedown St John, in Somerset.
He is continuing to receive physiotherapy at the unit and will be out of contention for the rest of the season, his club confirmed.