When will BBC Radio Gloucestershire be on DAB?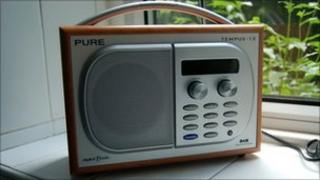 It's one of the must-have gadgets and with prices falling every month thousands of people in Gloucestershire are now the proud owner of a DAB digital radio.
But whilst the sets are in the shops customers aren't always aware that local radio still isn't available on DAB.
Here are some of the most common DAB-related questions that arrive in my email inbox.
"I've switched on my new DAB radio and I can't seem to tune into BBC Radio Gloucestershire. What am I doing wrong?"
Your radio set is working perfectly it's just that the transmitter network hasn't caught up yet!
The only DAB transmitters in Gloucestershire at the moment broadcast the national DAB radio stations.
BBC Radio Gloucestershire, Heart, Gold, Total Star, GFM and Stroud FM are not yet on DAB.
"When will you be on DAB?"
The roll out of DAB radio services across the country is controlled by the radio regulator Ofcom.
In 2007 it announced the timetable for local DAB in Gloucestershire but this has been delayed due to the implications of the recent Digital Economy Bill.
Muxco, the company awarded the contract to run local DAB in Gloucestershire, hopes to launch the "multiplex" in 2013.
"So, no matter where I am in the county I will be able to get local and national DAB once the service starts?"
The answer to that is, unfortunately, "no".
Initially local DAB will only be available to listeners in the Cheltenham / Gloucester area plus the North West of the county and parts of the Forest of Dean.
This is because local DAB will only be transmitted from the Churchdown transmitter near junction 11 on the M5 and from the Ridge Hill Transmitter in Herefordshire.
Planned local DAB transmitters in the North and South Cotswolds plus Stroud will be added later according to Muxco the DAB multiplex operator.
You also need to be aware that DAB signals are broadcast in straight lines so if there is a big hill between you and the transmitter you won't receive it.
"I live in Cirencester and receive BBC Wiltshire on my DAB radio. What's going on?"
You are picking up the local multiplex for Swindon because the signal from there reaches your radio set.
In the same way that you can hear BBC Wiltshire and BBC Radio Gloucestershire on FM you will in the future be able to hear both on DAB.
Due to the way DAB multiplexes work, anywhere that you can hear BBC Radio Gloucestershire on DAB you will also be able to hear BBC Hereford and Worcester too.
"I receive DAB in my kitchen... but not in the lounge. Why?"
You are probably on the edge of the reception area for DAB.
Unlike FM which gets progressively weaker the further you are from the transmitter, the DAB is either there - or its not!
Your radio will process the digital information for as long as it can .. if it doesn't get all the digital information it gives up!
Occasionally you'll get a digital burble instead of silence but either way it isn't working.
You can try a few tricks to improve the reception. Make sure your radio aerial is vertical and not at an angle. That's what DAB likes.
Try moving the radio to nearer the window. That will help.
If both of these tricks fail you may need to invest in an aerial on the outside of your house.
This assumes you can plug an aerial lead into the back of your DAB set/hifi. You can't do that with all DAB sets - especially cheaper ones.
Talk to your local TV aerial shop for advice.
"I don't have a DAB set yet - which one should I buy?"
Well I have four DAB sets and they all have their quirks!
Look online for specialist radio shops or pop into a local shop that can offer you advice.
The important point is to buy one that has at least DAB and FM on it.
This is because there will always be stations on FM or AM that aren't on DAB .. or you may move to a place where DAB reception is poor.
Equally, even after we are on DAB we will at times split frequencies and put, say, rugby commentary on AM and DAB... and football commentary on FM.
"When will we know for sure the launch date for BBC Radio Gloucestershire on DAB?"
We'll keep you fully advised of the situation here on this website and on air too.
We are as keen to be on DAB as you are to hear us there.