Afghanistan deployment for ARRC chaplain from Innsworth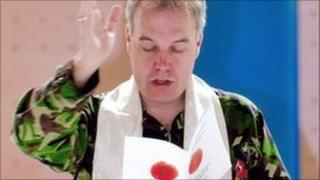 A chaplain to the Allied Rapid Reaction Corps is prepared for a "very deep" meeting of minds and faith when he is deployed to Afghanistan this week.
The Reverend Paul Wright, who is based in Innsworth, said soldiers on tour could experience intense fear, danger, excitement but also boredom.
He said conversations could be "very engaging" because often soldiers' thoughts turn to their own mortality.
Over 200 personnel from Imjin Barracks have been deployed to Afghanistan.
Fear and faith
The unit is responsible for the day-to-day coordination of the regional NATO commands.
Mr Wright recognises that "where there's fear there's faith", and believes his role is one of great importance.
He said: "The fear of being wounded or killed is very real and people then begin to consider who they are and what they are.
"The presence of Christian and other faith chaplains in the armed forces enables people to have those conversations."