Company guilty of Cheltenham geologist's manslaughter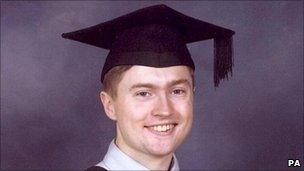 A Gloucestershire firm has become the first company to be convicted under new corporate manslaughter legislation.
Geologist Alexander Wright, 27, from Cheltenham, died at a development site in Brimscombe Lane, near Stroud, when a trench collapsed on him.
Cotswold Geotechnical Holdings denied killing Mr Wright in the accident which happened in September 2008.
A jury a Winchester Crown Court found the company guilty of failure to ensure the safety of Mr Wright.
Mr Wright, who had worked as a soil engineer for more than two years, was also an assistant Scout leader with the Charlton Kings Scout Troop.
The company will be sentenced on Thursday and could be fined a percentage of their turnover.
Earlier in the trial the court was told Mr Wright, an Imperial College graduate, was taking soil samples for a housing development in the pit, which was 12ft 6in (3.8m) deep and 2ft (60cm) wide, when it caved in.
The hearing was told the pit was not supported by timbering, which the Crown alleged was against health and safety laws.
Mark Ellison QC, prosecuting, said Mr Wright was working alone after his boss Peter Eaton, the company's managing director, left the site.
The court was told the owners of the plot, Mark Chubb and Carly Fields, heard an "odd muffled noise" and then a cry for help.
Mr Chubb ran over and tried to remove some of the mud while he told Ms Fields to call 999.
A post-mortem examination later showed Mr Wright died from traumatic asphyxia.
Gloucestershire Constabulary said police had conducted a "lengthy and thorough" investigation working with colleagues from the Heath and Safety Executive.
"As a result of our investigation we found that the company had a cavalier attitude towards health and safety. The way it taught and supervised junior engineers was inherently dangerous and the methods of working were outdated.
"We are satisfied the trial has resulted in a guilty verdict as Alex's family may now be able to move forward - knowing that someone has ultimately been found responsible for his untimely death.
"This case should also act as a salutary lesson to others working in site investigation and specifically within the geotechnical industry. We hope that today's outcome may go some way towards protecting others working in similar fields."
Speaking outside court Kevin Bridges from lawyers Pinsent Masons, who represented Cotswold Geotechnical Holdings Ltd, said: "The company will over the coming days consider all of its options including any potential grounds for appeal."
Cotswold Geotechnical Holdings Ltd said the company held Mr Wright in the "highest regard" and "deeply regretted the tragic incident which resulted in the loss of this talented young man."
Related Internet Links
The BBC is not responsible for the content of external sites.