Cheltenham £21m flood scheme sees trees felled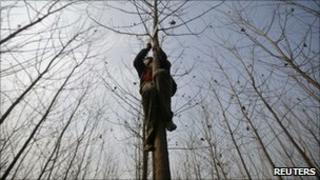 A number of trees are to be cut down in a Gloucestershire park as part of a £21m scheme to improve flood defences.
The Environment Agency will begin the work at Upper Sandford Park in Cheltenham this month.
One of the areas most distinctive landmarks, a white poplar tree, will also be felled after recent safety checks found it had become unsafe.
The tree's trunk will be kept as part of a feature in the park and other trees will be planted to replace it.
The Environment Agency added that it would not be able to build a flood wall around the tree, as it had originally planned.
'Public safety'
Project manager Nick Balsdon said: "We never like removing trees and only do so when it is the most pragmatic long term solution.
"It is not a decision we take lightly but public safety is our main concern.
"This old poplar is reaching the end of its natural life and is becoming potentially dangerous."
The Environment Agency said a survey had found no bats nesting in the poplar, with nearby birds unaffected due to the work being carried out so early in the year.
Other trees being removed include a line of leylandii adjacent to the Reach Fitness centre at Sandford Park Lido.
The Cheltenham flood alleviation scheme involves eight stages and includes work such as reconstructing bridges and improving channels and floodwalls.