Two Gloucestershire colleges merge to prevent closure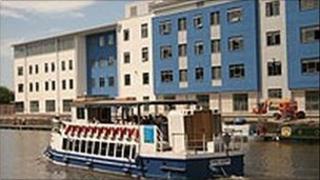 The Royal Forest of Dean College and Gloucestershire College have officially merged into one organisation.
The merger was agreed last November and approved by the Education Minister in December.
Greg Smith, Principal of the new Gloucestershire College, said Tuesday's merger had secured the future of further education in the area.
Mr Smith said work would now begin on proper integration of the campuses.
'Stronger institution'
He said: "Firstly it's very important for students in the Forest because there was a danger that the college was going to close.
"Financially it was not in good shape and their governors approached Gloucestershire College and asked us to take them over.
"Secondly, for our own students it means they will be part of a larger, stronger institution at the end of all this."
Mr Smith said the Royal Forest of Dean College had not been able to invest in its buildings in recent years, so one of the first jobs would be bringing those up to standard.
"The next stage of course, which is the most difficult, is to start to look at the harmonisation of the two college cultures," he added.
"We want to look at the different way we do things to ensure we don't impose the way Gloucestershire College does it on the Forest but take the best out of both institutions.
"Fortunately both are good institutions according to OFSTED so we should be able to learn from each other."