Hospital staff in Gloucestershire told of job losses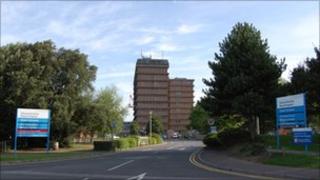 "Several hundred" jobs are expected to be lost as part of £18m cuts at Gloucestershire Hospitals NHS Foundation Trust.
The trust said it hopes to achieve the 4% efficiency savings through natural turnover and some redeployment.
Chief executive, Dr Frank Harsent, said the trust did not know which posts would be affected or how many.
But a spokesman for Unison South West said the cuts would result in "a collapse in the quality of care".
He added: "These are real term cuts to services and by reducing staffing levels by whatever means it will potentially lead to long waiting lists and a reduction in nurses, health care assistants and other vital support workers disappearing from the wards.
"This news all adds up to mean one thing for patients - a collapse in the quality of care."
'Community provision'
Dr Harsent said: "Based on our current predictions and on the scale of change and efficiency savings required, I believe that we will require a reduction in the number of posts in our trust by several hundred.
"Safety and quality of care will remain our prime considerations and we will ensure that we always maintain the right staffing levels to deliver that, even if we have to recruit in some areas of service to do so.
"Our priority will be on protecting front-line services.
"We have a strong track record of delivering savings and introducing more efficient working practices.
"We have done this whilst keeping our focus on the top priority of high quality patient care and supporting the increasing shift towards community provision when this is right for the patient."
The trust, which runs hospitals in Gloucester and Cheltenham, has a budget of around £420m of which 70% are staff costs.
It employs about 7,400 people and now plans to consult with staff and unions on the most appropriate way of making the savings.
Dr Harsent said: "We will do everything we can to avoid redundancies, in particular compulsory redundancies."