'Despicable' attack on Longlevens pensioner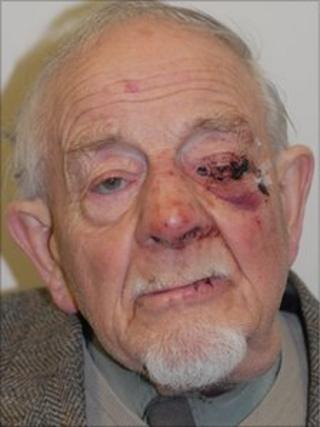 Police have released a photo showing the injuries inflicted on an 83-year-old Gloucestershire man during a robbery.
The victim, John Astman, was walking his dog near his Longlevens home when he was approached by a man who asked for money for his bus fare home.
He refused but the man followed him back to his house where he was threatened with a knife and assaulted.
The offender is white, slim, and in his early 20s.
'Extremely traumatising'
He took cash and jewellery from the house during the incident on Friday.
A Gloucestershire Police spokesman said the victim had agreed to have his photo released in an attempt to catch the offender.
"This was a despicable attack on an elderly gentleman in his own home. It was extremely traumatising for Mr Astman and I would like to pay tribute to his bravery for agreeing to let these awful photos be shown.
"I hope something good comes out of it and that they prompt more information to help us identify the man responsible."
Detectives are linking the robbery to a suspicious incident that happened about 10 minutes beforehand in Longford Lane, Longlevens, when a resident was visited by a young man she did not know.
She refused to answer the door and he walked away.
"Anyone who saw anything on Friday evening at about 8pm or has any information should contact police or Crimestoppers," the force spokesman added.