Man tried to save Cheltenham trench death geologist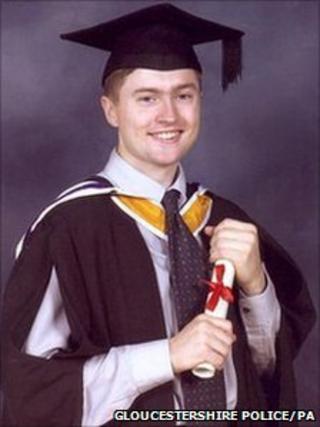 A man climbed into a collapsed trench to try to save a geologist who was trapped in it, a court heard.
Alexander Wright, 27, from Cheltenham, in Gloucestershire died at a development site in Brimscombe Lane, near Stroud in September 2008.
Cotswold Geotechnical Holdings denies unlawfully killing him.
The case, at Winchester Crown Court, is the first trial of a business for corporate manslaughter under new legislation.
The prosecution is taking place under the Corporate Manslaughter and Corporate Homicide Act 2007, which came into force in April 2008.
If the company is found guilty, the penalty is an unlimited fine.
The hearing was told Mr Wright, an Imperial College graduate, was taking soil samples for a housing development in the 12.6ft (3.8m) deep, 2ft (0.6m) wide, pit when it caved in.
The hearing was told the pit was not supported by timbering, which the Crown alleged was against health and safety laws.
Mark Ellison QC, prosecuting, said Mr Wright was working alone after his boss Peter Eaton, the company's managing director, left the site.
Mr Ellison told the jury that Mark Clubb and his partner Carly Fields, the owners of the plot, had heard "an odd muffled noise and then a cry for help".
He said: "Mark Clubb went straight over to the trench and saw that a lot of soil had fallen in and that Alex Wright appeared to be buried up to his head.
"When they called out to him, however, he shouted back that he could hear them and Mark Clubb climbed down into the pit to try to help him, telling his partner to call the emergency services."
'No response'
Mr Ellison said Mr Clubb tried to remove some of the mud so Mr Wright could breathe.
He added: "He heard Alex say, 'I can see light', and Alex managed to push his hand up through the soil which Mark Clubb took hold of and held.
"He cleared the area around Alex's mouth and nostrils but more earth fell into the pit, covering him completely and Mark Clubb simply could not keep up with the flow of material.
"He kept hold of Alex's hand but soon he could feel no response," he said.
Mr Ellison said fire crews arrived in minutes but Mr Wright was already dead.
A post-mortem examination showed he died from traumatic asphyxia.
The trial is expected to last for three weeks.