Gloucestershire methadone baby inquest adjourned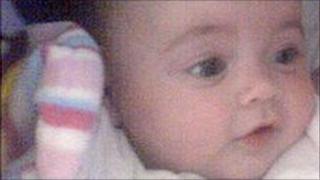 An inquest into the death of a toddler who was given the heroin substitute methadone by her mother and her partner has been adjourned.
Holly Agius, aged 14 months, died after being taken to hospital from her home in Broadwell, Gloucestershire.
The inquest could not begin because Holly's mother, Bonny Richards, who was jailed for 15 months for child cruelty last June, had not been told about it.
The hearing was adjourned until a date yet to be fixed.
The deputy Gloucestershire coroner, David Dooley, said Richards, 28, who was jailed for 15 months, had a right to be represented at the hearing.
Richards' partner John Davies, 32, is serving an 18-month sentence.
They had both admitted three counts of child cruelty towards the little girl.
Holly died at Gloucestershire Royal Hospital after being admitted on 12 January 2009.
Bristol Crown Court heard the pair gave her methadone over a six-month period to try to soothe her.