Gloucester man admits kidnap and assault of girl, 13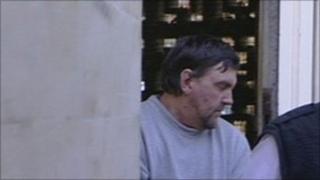 A Gloucestershire man has pleaded guilty to kidnapping and sexually assaulting a 13-year-old girl.
Colin Riddall, 44, admitted kidnapping, false imprisonment, sexual assault and assault causing actual bodily harm.
Gloucester Crown Court was told Riddall, of Redding Close in Quedgeley, Gloucester, abducted the teenager from School Lane, Quedgeley, on 16 October.
He denied three other charges. Riddall was remanded in custody to be sentenced on 7 February.
Gagged with scarf
Speaking after the court hearing, Det Isp Kevin McCloskey, of Gloucestershire Police, said Riddall had taken the girl to the nearby villages of Longney and Easington.
He gagged her by putting a scarf in her mouth while he attacked her.
Riddall, a single man, then dumped his victim back in Quedgeley two hours later.
The car valeter has no previous convictions, but Det Isp McCloskey said they were now investigating his background.
He said: "Effectively he's gone from zero to this offence, totally out of the blue.
"We are looking at Mr Riddall's background and lifestyle before he came to Gloucester, and his time in Gloucester, to see if there are any other offences he may be connected with."
'Become suicidal'
His victim's mother, who is not named to protect her daughter's identity, said the teenager had become very unstable since the attack.
She said: "She's become suicidal. She's reverted back to being about eight years old.
"She won't sleep at all because she gets nightmares, so she literally has to wear herself out to the last breath to be able to sleep."
The woman said she was very proud of her daughter for being able to remember so many details of the incident to tell police.
Riddall denied kidnap with intent to commit a sexual offence, possessing a knife and attempting to cause grievous bodily harm with intent.
The pleas were accepted by the prosecution, which will not proceed with these charges.
The Independent Police Complaints Commission is investigating Gloucestershire's Police's response to the incident.