Petition forces Gloucestershire council library debate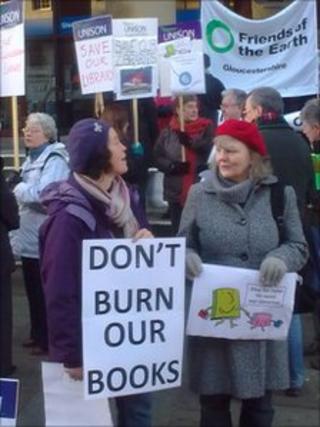 A petition with almost 12,000 signatures protesting at plans to shut libraries in Gloucestershire has forced a debate at a council meeting.
The county council introduced a scheme last year meaning petitions with more than 5,000 signatures could secure a 15-minute debate at full council.
Friends of Gloucestershire Libraries wants a review of the council's proposals to shut 11 libraries.
It is the first time a petition has been debated at the authority.
Demelza Jones, from Friends of Gloucestershire Libraries, said: "Our petition is calling for an independent review of the council's plans for our library services.
"We are going to make a five-minute statement at the full meeting, then the council will debate the petition for 15 minutes.
'Difficult issues'
"These planned cuts will have a huge impact on the library service but overall it will save the council quite a small amount of money.
"We think it's disproportionate to make such savage cuts that will effectively decimate a well-used and widely beneficial service for such a small financial return."
Councillor Antonia Noble, from Gloucestershire County Council, said: "It was interesting to hear the views of the campaigners and we are grateful to them for presenting them.
"The debate at council is testament to the fact that we are listening.
"We acknowledge that libraries are important to some in our communities, but this must be seen in the wider context of the very difficult issues that face the council."
The Conservative-controlled council has said it wants to hand over 11 libraries to volunteers as part of plans to save £108m over the next four years.
The council meeting started at Shire Hall in Gloucester at 1000 GMT.