Cheltenham's gull problem prompts more action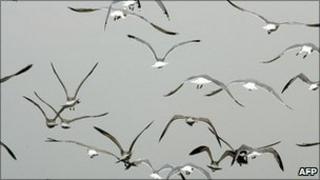 Cheltenham Borough Council is to spend £5,000 on oiling seagull eggs in an effort to reduce the town's seabird problem.
A public meeting in the council chamber attended by concerned residents heard measures would continue, despite financial restrictions.
Councillor Barbara Driver told the BBC: "Cheltenham has had a problem for a number of years and it's getting worse.
"People are concerned at the noise, disruption and health hazard."
She added: "The problem is at its worst when the birds have young. The noise starts at about three or four in the morning - and they can become quite aggressive.
"A member of my family was dive-bombed by a gull while walking a dog."
Dozens of residents complained last spring about disruption caused by roosting gulls.
A public meeting last year brought calls for the council to start shooting the birds.
The egg-oiling programme started in 2006. Oiled eggs do not hatch.
But some residents have said the method is ineffective and they have called for more to be done to make the town's rooftops gull-proof.