Steam railway suffers another embankment collapse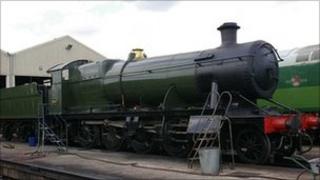 A heritage rail line has suffered another significant embankment collapse which could cost up to £500,000 to repair.
Operators of the Gloucestershire Warwickshire Steam Railway said they believed it was caused by the recent cold, wet weather.
The collapse has happened on the Toddington side of Winchcombe station.
Last year, rail enthusiast and music producer Pete Waterman appealed for funds to repair a different embankment.
Mr Waterman, the railway's president, led a £1m emergency appeal to fix the collapse at Gotherington and that appeal is ongoing.
'Emergency meeting'
Malcolm Temple, chairman of the volunteer-run tourist attraction, said: "Last year was the worst in the railway's 29 years of preservation history.
"Not only did we suffer the Gotherington collapse... but several days of our busy Santa Specials were lost because of heavy snow and freezing conditions, costing us between £50,000 and £60,000 in lost revenue.
"Just when we thought we were putting a terrible year behind us, this happens."
Engineers are assessing the extent of the damage but it is thought it will take several months to repair once the funds are found.
Mr Temple said: "Unfortunately our insurers, who are paying for part of the Gotherington collapse, will not be prepared to meet the cost of this latest disaster.
"Frankly, this has brought the railway to its knees."
The railway is organising an emergency meeting to decide on the way forward.
"We are a resilient group and we will pull together and come up with an action plan," he said.
"Top of the list is to refresh our appeal launched last year by our president Pete Waterman - we need every penny we can raise."