More warning for Llanthony Road bus lane in Gloucester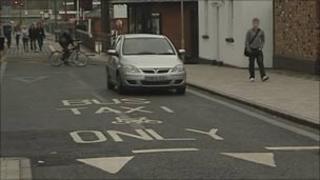 A further 12 signs warning motorists of a bus lane in Gloucester have been put up after nearly 16,000 drivers were fined for using it.
Gloucestershire County Council said it wanted to make it "even clearer" that Llanthony Road bridge was "off limits" to most vehicles.
The move comes after feedback from motorists suggesting that more warning should be given.
CCTV has been used since July to enforce the restriction.
In October the council added more signs but said the bus lane was already correctly signposted.
Speaking then, a spokesman denied the camera was "generated cash for the council's coffers" insisting it was there for "safety reasons".
People caught on camera are fined £60 which is reduced to £30 if paid within 14 days.
The bridge is used by people walking between the Gloucester Quays shopping centre, Gloucestershire College and the town centre.
Emergency vehicles and taxis are also allowed to use the bus lane.
Gloucester City Council enforces the scheme on behalf of Gloucestershire County Council.