Cyclist dies after collision with van in Coaley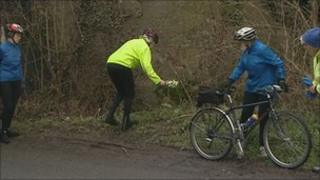 A cyclist has died after being in collision with a van towing a trailer in Gloucestershire.
The accident happened on Saturday at about 1230 GMT on Peter's Street in Coaley, near Dursley.
Cyclist Pat Appleton, 67, from Berkeley, was taken to Frenchay Hospital in Bristol with life-threatening injuries and later died.
Mrs Appleton was a member of the Dursley Road Club cycling group.
Daphne Edwards, from the Stroud Valleys Cycling Club, said: "She was a very experienced rider and we're absolutely shocked.
'Racing cyclist'
"We feel numb today to the fact that she's gone from us. She was one of the most experienced riders and had been a racing cyclist in her time and had ridden in France.
"It's one of those moments when you think 'it can't be true'."
A spokesman from the Dursley Road Club said: "Pat will be remembered for being one of life's characters, if not a little eccentric.
"Always a very determined lady with 100% commitment to every event she rode."
Mrs Appleton was taking part in the 100km Bristol Audax ride in the Berkeley and Severn Vale area on Saturday.
Gloucestershire police are asking anyone who may have information or who witnessed the incident to contact them.