Pothole inspection under way in Gloucestershire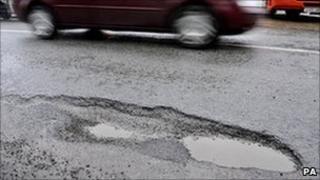 Roads in Gloucestershire are being inspected for potholes.
A council spokesman said there had been "major problems" over the last two winters - in 2010 the authority repaired about 90,000 potholes.
The spokesman said the county's 3,500 miles of roads were likely to have suffered further damage during freezing weather in December and early January.
He said initial reports showed the scale of repairs was not as bad as last year.
Potholes are caused when water gets into cracks in the road. The cracks expand when freezing, loosening the material which is then washed away by rain.
Councillor Stan Waddington, cabinet member for environment, said work to seal the roads against bad weather last year had helped prepare for this winter.
He added: "Whatever we find, please be assured that we are taking action and that we will do all we can to repair Gloucestershire's roads.
"However, as we all know, money is tight so we will continue to prioritise what we do."