Gloucestershire cheese rolling to 'change dramatically'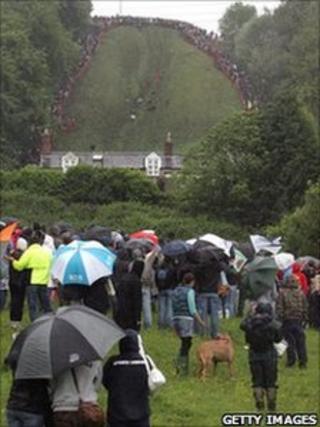 Gloucestershire's famous cheese-rolling spectacle could be turned into a ticketed festival held over two days.
Organisers said the event "needs to change dramatically" if it is to survive and are starting a Save the Cheese Roll campaign on 20 January.
It became a victim of its own success in 2009 when 15,000 spectators turned up at Cooper's Hill, Brockworth - a site only suitable for 5,000.
Last year's event was cancelled amid fears over traffic and crowd safety.
The cheese-rolling committee said the event needed to expand into a professionally-organised festival with live bands, country crafts, traditional games and overnight camping.
'Cheap commercialisation'
Spokesman Nigel Thomas said: "In its present form it attracts just too many people for us to handle safely.
"Whatever the format, we are determined not to lose the atmosphere, heritage and tradition which have made this such a special event.
"So we have brought in Cheltenham-based Events and Management Services to organize a completely new event to include elements of the old Coopers Hill Wake."
Proposals would also see the date of the event changed from Spring Bank Holiday to the weekend of 11/12 June.
But Cranham Parish Council said it was "extremely concerned" the centuries-old tradition of watching people chase cheeses down the hillside would be lost for good.
"It's just going to be cheap commercialisation and the cheese-roll brand... is just going to be sullied by cheap commercialism, and I think it's appalling.
"I'm sure these people who run the committee have got the best intentions but perhaps they should step back and think, actually, isn't there some other way of handling this problem of health and safety and numbers?"