Maternity unit opens at Gloucestershire Royal Hospital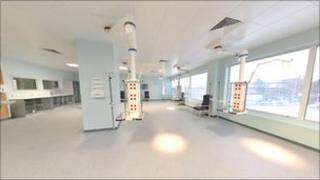 A £29m women's centre has opened in Gloucestershire, signalling a change to maternity services in the county.
The Gloucestershire Royal Hospital unit will be the centralised service for women who require any medical or anaesthetic intervention during labour.
Spokesman Dhushy Mahendran said the state-of-the-art facilities were "great news" for women needing complex care.
About 17 babies are born in the county every day and the first births are expected in the unit later this week.
The centre, which has taken almost two years to complete, includes a greater number of intensive care cots and special care facilities.
It also features a 46-bed ante-natal and post-natal ward, 12 en-suite rooms and two obstetric theatres which have a close link with the hospital's department of critical care.
Mr Mahendran said that the "self-contained midwifery units will enable women to give birth in a home-from-home environment".