Gloucestershire scam builders guilty of £1m fraud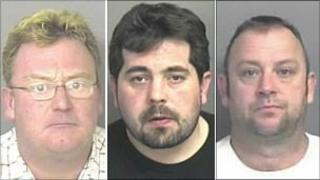 A gang of Gloucestershire builders has been convicted of scamming householders out of a combined total of nearly £1m.
Bristol Crown Court heard the three men collected as much as possible for jobs up front before disappearing without finishing the work.
Mark Dixon, 43, Nicholas Harris, 45, and Matthew Higgins, 33, were found guilty of conspiracy to defraud by a jury at Bristol Crown Court.
Co-accused Leighton Docksey, 34, and Lee Ireson, 30, were found not guilty.
Dixon, of Ash Lane, Down Hatherley; Harris, of Ash Path, Upton St Leonards; and Higgins, of Nelson Street, all Gloucester, had all denied conspiracy to defraud between April 2005 and October 2007.
The court heard they ran two linked firms called Construction Management Development Ltd and CMD Services Ltd.
They conned more than 50 people in Gloucestershire, Worcestershire, West Midlands, Bristol, Wiltshire, Devon, Cornwall, Oxfordshire, Berkshire, Hampshire, Hertfordshire, Buckinghamshire, Surrey, and Kent.
Speaking outside court Det Ch Insp David Sellwood said it was clear the criminals enjoyed the money and felt no guilt about the misery they caused.
"Today's [Monday's] verdicts send out a clear message to criminals across the country - moving your operation around will not hide what you are doing and we will piece together the puzzle," he said.
"Harris and his colleagues will also face a proceeds of crime hearing. We will reclaim any cash and assets still available."
'Left in lurch'
The court had heard that Dixon had earned so much from the scam that he had upgraded his car from a Ford Focus to a Lotus.
He had previously been made the subject of an order by a judge at the Mercantile Court in Bristol in 2006 banning him from "unacceptable" building trade practices.
When complaints continued to be received by Gloucestershire Trading Standards from consumers in several counties, the police were consulted resulting in the investigation.
The court heard the gang would target householders who had been granted planning permission for extensions.
They claimed to be specialists and would offer competitive quotes, an early start to work and references from "satisfied customers".
After a contract was signed, the gang would get their victims to hand over a deposit of between 10% and 20%, the court heard.
Rupert Lowe, for the prosecution, told the court in September: "Their business was to get as much money out of their customers as quickly as they could and leave them in the lurch with a half-finished project and in a mess."
The court heard one victim was quoted £238,000 for work and was conned out of £20,000.
Mr Lowe said: "But sooner or later some of the customers thought they were paying a high price for the amount of work being done.
"When they questioned the arrangements they were told 'We'll have to stop' and quite a few were told if they didn't pay 'We'll have to sue you for breach of contract'."
The court heard the men used false names to try to make it difficult for the victims to contact them when they vanished.
"Their business was geared to getting money. The whole operation was dishonest from start to finish, taking the maximum amount of money, doing the minimum work and then scarper," Mr Lowe added.