Gloucester hospital apologises after patient's death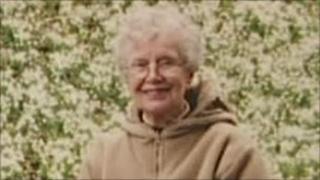 A hospital has apologised to the family of a Gloucester grandmother who died in its care, in a case that has been criticised by the Patients Association.
Megan Davis, who was 83 and deaf, died last December - six weeks after a routine bowel operation at the Gloucestershire Royal Hospital (RGH).
Her family say hospital staff lost Mrs Davis's hearing aid and neglected her feeding during her stay in hospital.
The hospital said it was sorry to hear of Mrs Davis's experiences.
"The general areas of concern raised by Mrs Davis' daughter have influenced improvements in services on surgical wards and informed our patient experience strategy," the Gloucestershire Hospitals Trust statement said.
"Abysmal failings"
An account by Heather Donovan, Mrs Davis's daughter, appears in a report by the Patients Association entitled Listen to Patients, Speak up for Change.
In the report, Mrs Donovan, from Sutton Coldfield, Birmingham, chronicles her mother's decline from alert and confident patient after the operation, to frail and confused a few weeks afterwards.
Mrs Donovan claims that Mrs Davis's saline drip was often not correctly inserted, that food was denied her, medical records mixed up and that she was "generally neglected".
She said staff seemed unaware her mother was deaf and unsure of how to deal with the disability if they did.
"I realise I cannot change the way hospitals treat the elderly... however, I hope I can change the way deaf people are treated," Mrs Donovan wrote.
Kathry Murphy of the Patients Association said Mrs Davis's story and the others contained in the report were "shocking"
"We shouldn't tolerate such abysmal failings," she added.
The trust says it has learned from the case and it will meet with Mrs Davis's family in January to discuss action they have taken.