Forest of Dean bridge warning after weight limit defied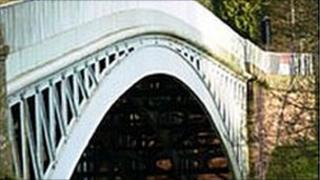 Drivers are being warned to obey weight restrictions on a road bridge or face the prospect of it being entirely shut while improvements are carried out.
Work to repair and paint the Bigsweir bridge near St Briavels in The Forest of Dean is due to last until March.
The county council said some lorries had been ignoring the 7.5 tonne weight limit, causing the structure to weaken.
"[It] may mean that it will have to be closed to all traffic until the work is complete," a spokesman said.
The council said 20 HGVs were caught by the Safety Camera Partnership crossing the bridge last week and the drivers would be identified and issued with tickets.
Safety concerns
The 180-year-old bridge spans 160ft (49m) of the River Wye between Wales and England.
Because scaffolding is needed to complete the work, the weight restriction has been reduced from 16.5 tonnes to 7.5 tonnes.
Bridge Engineer Liz Kirkham said: "The decision to keep the bridge open was made out of consideration for the local community as it is a busy and well-used route and we didn't want to disrupt travel in the run up to Christmas.
"However, we are concerned about the safety of our workers and the structure of the bridge itself.
"Some of the trucks using the bridge have weighed 38 tonnes, when the normal weight limit is 16.5 tonnes. If this continues, we will have no choice but to close the bridge until the work is complete."