Two black swans stolen from Forest of Dean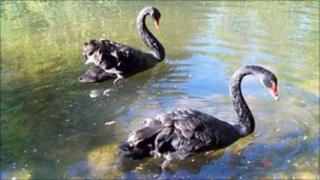 A pair of Australian black swans have been stolen from land near Brockweir in the Forest of Dean.
The swans, which have red beaks and white tips to their wings, are valued at about £250 in total.
Police said there were no signs the swans were taken by a fox or other animal and it is believed they could have been stolen to order.
Both birds, which were taken between Friday and Sunday, have had a wing clipped so are unable to fly.