Cyprus home buyers left out of pocket by developer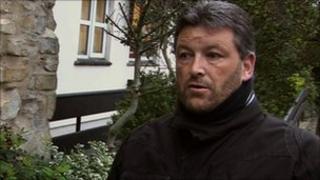 Home buyers looking to move to Cyprus have been left hundreds of thousands of pounds out of pocket by a Gloucestershire property developer.
MDE Nest Homes Ltd, run by Adrian Mills, 40, sold sites for planned homes on the island that were never built.
The money - some of which was paid to Mr Mills in cash - has never been returned despite a civil court order.
Mr Mills, who lives near Dursley, insists all the money was spent on the business, which is now in liquidation.
'Let down'
He said the development at Choletria had never gone ahead because of "delays by the planning authorities in Cyprus".
"I followed what I was told by what I thought were professionals - architects and government bodies - and I was let down by those parties," he added.
MDE Nest Homes Ltd was ordered to pay four buyers a combined sum of more than one million euros in 2008.
Mr Mills also faced a private criminal prosecution in Cyprus for issuing cheques which did not clear.
He has since left the island, still owing the buyers their money.
One buyer, Jonathan Barnett, from Croydon, Surrey, said: "It's been a complete and utter nightmare. I have never suffered so much stress in my entire life and we see no end in sight."
'Dream home'
MDE Nest Homes Ltd had developed some homes at a separate site at Nata but, four years later, the project remains unfinished, with vital retaining walls and road access never built.
Tom Owen, who lives in one of the homes, said: "What we were promised was a dream home but we got a nightmare site instead."
Mr Mills also owes tens of thousands of pounds in personal loans made by former friends.
One of those, Bernie Bowhay, who lives near Paphos, Cyprus, said: "I'm disgusted at the way he has treated me."
The full story features on Inside Out West on BBC One West at 1930 GMT on Monday.