Gloucestershire hospital beds closed to save money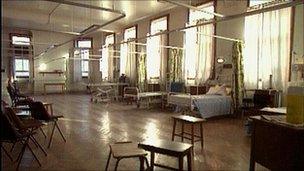 More than 40 beds are to be lost at Gloucestershire Royal Hospital to save money.
The county council's health, community and care overview and scrutiny committee gave the 43 closures, which will save £2m, the go-ahead on Tuesday.
Gloucestershire Hospitals NHS Foundation Trust had originally wanted to get rid of 200 beds.
The trust's chief executive, Dr Frank Harsent, said he still expected more beds to be closed in the future.
Dr Harsent said: "I have no idea what the bed numbers are going to be. My personal opinion is there will be further changes to the bed compliment."
He said patients were saying they wanted care closer to home and that as care moved out to places like community hospitals, the two larger hospitals would shrink.
Councillor Andrew Gravells, chairman of the committee which gave the go-ahead, said 50 bed closures had been in place since May as part of a consultation.
"After having listened to our concerns about the trial period, they've addresses all of [our concerns] and given us as a committee the reassurances we need to say 'OK, there's a case for closing a lesser number of beds'.
"I'm not saying this is the green light for massive bed closures... what this is a green light for is a better working relationship with the hospital, that they will engage with us earlier when they have plans."
Health chiefs had announced their proposals to close 200 beds in February and the first phase was due to begin on 1 April.
The then Health Minister Mike O'Brien accused them of a "lack of imagination" and councillors condemned the move, which delayed the plans as they were put out to public consultation.
Related Internet Links
The BBC is not responsible for the content of external sites.