Cheltenham taxi drivers in 'go-slow' protest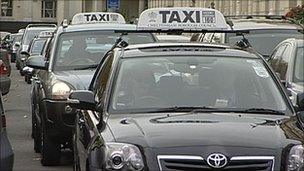 Taxi drivers in Cheltenham have taken part in a go-slow protesting about new rules on emissions which they say could take their vehicles off the road.
Twenty-five cabs were driven from the race course to council offices where a letter of protest was delivered.
Driver Gary Knight said licensing officials told him 150 cars could be taken off the road for failing Euro Emission IV standards.
A council spokesman said it would look into the drivers' concerns.
He added: "Following concerns from Hackney carriage and private hire vehicle drivers about the emissions section of our new policy, we are revisiting this part as a matter of urgency.
"This emissions section will be referred back to our Licensing Committee by 5 November 2010."
Cheltenham Borough Council will be introducing Euro Emission IV standards from next month which would mean all vehicles used for taxiing would have to be no more than five years old.
Mr Knight said Cheltenham Borough Council officials told him that 85% of the cars in their present condition would fail the test, and 150 would have to be taken off of the road immediately.
The protest convoy departed from Cheltenham racecourse at 1200 GMT.
Related Internet Links
The BBC is not responsible for the content of external sites.