Campaign to cut NHS Gloucestershire drugs waste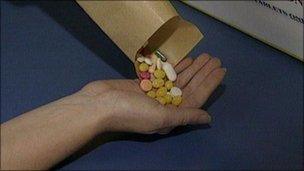 A campaign to cut the amount of medicine wasted in Gloucestershire has been launched.
NHS Gloucestershire says prescription drugs which are not used or hoarded cost the trust approximately £4.5m each year.
A spokesman said the funds could pay for 700 community nurses.
Pharmacists, GPs and the NHS are encouraging people to think about their medicine use before ordering repeat prescriptions.
The campaign is also alerting people to the dangers, particularly to young children, of having medicine lying around.
Local pharmacist Peter Badham said in the best case scenario, patients were 50% compliant with the medication prescribed to them.
"Patients are not getting the best value out of the medicine that's prescribed for them," he said.
Dr Chris Goldie, who practises in Cirencester, said: "Some of it [waste prevention] is in the doctor's hands to try and provide the appropriate quantities at the appropriate times.
"A lot of it is in the patient's hands to try to avoid the stockpiling of drugs.
"There's an initial resistance to taking medication for very many people even when they feel its effective."
He said side effects also deterred some people from taking their medication.
Patients and doctors should honour review dates for repeat prescriptions, he added.
Deborah Elliott, director of primary care commissioning at NHS Gloucestershire, said it was working with pharmacists to ensure patients know how to use the medication properly.
She said pharmacists would check whether patients still needed all the drugs when they collected them.
"We could do an awful lot more if we cut the waste out of the system and reinvested that into patient care, she added.
People are being encouraged to return their unwanted medication to their pharmacies or surgeries so they can be safely disposed of.
They are also advised to ask their pharmacist or GP for advice about the use of long-term medication.
Related Internet Links
The BBC is not responsible for the content of external sites.