Revamp for Cotswold Water Park management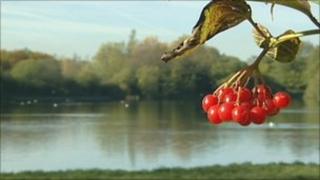 The management of the Cotswold Water Park Society is to be reformed, following a turbulent year at the attraction.
Two bosses of the society which ran part of the park were arrested for fraud in April.
Now the Cotswold Water Park Trust, a charitable organisation, will take over overseeing part of the site.
Tasha Flaherty, of the the Cotswold Water Park Society, said the change would bring greater "transparency".
"Having the Charity Commission behind us means the public can see we are doing what we should do," she added.
The Trust is seeking a new board of trustees to manage part of the park - and is looking for people with land management, ecology, sport and leisure backgrounds to help revitalise it.
The entire Cotswold Water Park contains 150 lakes, formed largely in former gravel pits, on the Gloucestershire-Wiltshire border.
Councillor Paul Hodgkinson, of Cotswold District Council, has been critical of management in the past.
"It has to be a completely new set of people - and the new set of people has to be chosen by the community. The old guard has failed," he said.
The changes come after a lengthy public consultation and were approved by a public meeting at the park's Gateway Centre.
"After a very difficult few months for the staff we feel there will soon be an end to all the turmoil and uncertainty," said Matthew Millet, acting chief executive of the water park society.
Kajil Devi, 15, from Feltham in London, died in July after an accident at a bathing lake operated by property and leisure company, Watermark.
Earlier in the year, the water park society's former chief executive Dennis Grant and finance director Nick Hanson were arrested on suspicion of theft, conspiracy to defraud, money laundering and false accounting.
Mr Hanson, 48, has since died after collapsing at his home in Coventry on 6 September. Chief executive Dennis Grant was granted bail until 26 October.