Church hit by the Gloucestershire floods rededicated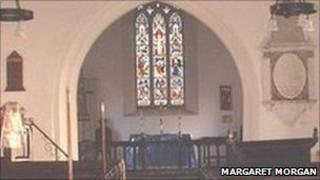 A village church that was devastated by the 2007 Gloucestershire floods is to be rededicated a year after it reopened for worship.
Repair work at St Michael and All Angels Church in Tirley, near Tewkesbury, has now been completed with a new £25,000 suspended organ gallery.
Four stainless steel pillars will hold the organ above the floor to protect it from any future floodwater.
The church will be rededicated by the Bishop of Gloucester later.
Gloucestershire Environmental Trust donated the money for the organ gallery.
The rest of the church has also been designed to minimise future flood damage, with stone floors, and moveable chairs rather than pews.
The church's minister, the Reverend Rob Merchant, said: "St Michael and All Angels has been reclaimed from the floodwater of the River Severn by the hard work and dedication of its congregation and local community.
"Although the flooding seems like a long time ago, I think it is important to remember that some people are still putting their lives back together again.
"The restoration of the church celebrates our heritage, prepares us for any further flooding and looks to the future with a new open worship area able to be used for many different purposes."
He said the gallery was about 8ft (2.4m) in the air: "It ensures, should the river ever wish to enter the church again, the organ is safe, and it's also a refuge to put items of value to our church."
The Bishop of Gloucester, the Right Reverend Michael Perham, said: "It has taken three years to complete the renovation of St Michael's, Tirley, after the disastrous 2007 floods, but it is better to do things slowly and carefully, especially when dealing with beautiful and historic buildings."