Cheltenham public say mayor's car must go to save money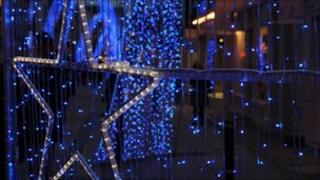 Cheltenham's mayoral car and civic events should be axed to save money according to residents who took part in a budget consultation exercise.
More than 20 consulation roadshows were held in the town after concerns that the borough council faced a £4.7m shortfall over the next five years.
The council said people wanted to see a cut in bureaucracy and "nice to haves".
But they wanted services which affected them, such as rubbish collection and community safety, to be protected.
Cheltenham Festivals, Shopmobility, public toilets and outdoor sports facilities were also among the top services people wanted to safeguard, the survey said.
In addition to the mayor's car and civic events, the public wanted spending stopped on the Christmas lights switch-on event, Playhouse Theatre and Festival of Performing Arts.
Not scientific
This year's Christmas lights ceremony has already been cancelled due to government funding cuts, although local businesses are pulling together to hold some sort of event in its place.
The authority has also just announced it will continue the entire funding of the performing arts festival till 2012, after which organisers will have to contribute a proportion of the running costs.
The authority admitted the results were not scientific but gave it a better understanding about which services local people wanted.
Mark Sheldon, chief finance officer, said: "We're all aware we have some tough times ahead, but I think it's important to re-iterate that we're doing more than just focusing on cuts.
"We also need to look at where income can be made, where communities can play more of a role and where working differently - for example sharing services - can help with the budget gap."