Lives 'made a misery' by Gloucestershire waste plant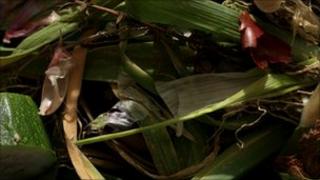 People living near a composting plant in Gloucestershire say the smell associated with it is "making their lives a misery".
Residents in the Sharpness and Purton area say the cause is lorries carrying waste not being covered properly, and the odour from the plant's chimney.
The plant opened in 2008 and takes in more than 100,000 tonnes of food and garden waste every year.
Plant operator New Earth Solutions said improvements were being made.
Brian Williams, who runs Sharpness Marina, said the problem started when the plant was established.
'Advanced rot'
He claimed affected people could not open doors and windows and were plagued by flies.
"The fumes from these vehicles are unbelievable," he said.
"I will never follow one up the bypass, I really don't want to smell what's in those vehicles.
"You're talking about matter which is in an advanced state of rot.
"I'm not opposed to green things but that factory is anything but green, it is a polluter."
Dafydd Evans, from the Environment Agency (EA), which monitors the site, said there were "very few problems" in winter.
He said the agency was talking to the company about how to improve the technology to ensure gases casing odours can be dispersed so that they do not affect locals.
Colin Brown, operations director of New Earth Solutions, said: "Since we took over the business in February 2009, we've embarked on a series of improvements.
Raw sewage
"I would acknowledge a number of complaints the EA are in receipt of from the locals and each and every one is investigated by both the EA and ourselves.
"In the vast majority of cases, those complaints cannot be substantiated.
"We take our duty to the environment very seriously... I will acknowledge that there are areas where we will continue to improve our operation and that is something we are committed to do."
He said the company was hoping to receive a report with recommendations on the way the odours are dispersed from the chimney in the next few weeks.
Mr Brown added that a survey between the company and the EA had found raw sewage was being discharged from local homes, which was probably the cause of the flies.
A meeting on the issue is due to take place in Sharpness later.