Thousands still ignoring Gloucester bus lane ban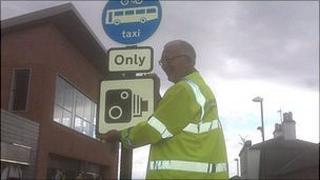 Nearly 8,000 vehicles have been caught illegally using a Gloucester bus lane since July when CCTV was installed.
Gloucestershire County Council installed the camera in an effort to deter people from using the lane on Llanthony Road Bridge.
Before the camera was switched on, an average of 2,000 motorists a day were using the lane. That number has now dropped to 130 a day.
Drivers caught flouting the law are given a £60 penalty notice.
'Sat nav blamed'
Up to the start of September more than 5,700 people had been caught breaking the ban and a further 2,111 have been filmed using the bridge since.
The council has issued another plea for motorists to stop using the bridge, which is in a busy pedestrianised area.
There are signs stating that the bridge is closed to all traffic except buses and taxis.
Councillor Stan Waddington, cabinet member for environment, said: "The most important thing here is that people stop using this bridge if they are not entitled to but despite our efforts to warn people some drivers are still doing it.
"We have put up additional signs to make it even clearer that the bridge is for buses and taxis only so there is no excuse.
"Some people who have been issued with a notice have blamed their sat nav system for taking them over the bridge, again that is no excuse people can clearly see the signs so they should pay attention to them.
"This is not a money making exercise for the council, we want people to stop doing this to protect the pedestrian space and create a pleasant environment for shoppers and visitors to Gloucester.
"I'd like to urge anyone who travels through the centre of Gloucester to use another route and avoid the fine."
All money collected from the fines is used to enforce the scheme or to support transport in Gloucestershire.