Seagull food waste warning issued in Gloucester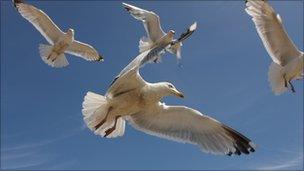 Restaurants and takeaways in Gloucester have been warned of the consequences of inadvertently providing fodder for the growing gull population.
The city council has written to about 100 businesses after officers found evidence of takeaways while removing nests and eggs from rooftops.
The letters remind them they must provide bins outside their premises and keep the areas clean.
The council has introduced a "zero tolerance" campaign against litter.
Gloucester has one of the largest urban gull populations in the UK.
The letters also warn that the authority can take action if the businesses fail "to provide adequate provision for litter disposal".
Councillor Andrew Gravells said: "Everyone is well aware of the problems we have with gulls in the city. We are doing all we can to combat this and are seeking national advice.
"But businesses must play their part too. It is evident that the gulls are feeding on scraps from takeaway restaurants that are dropped in the street."
He added that people caught littering face fines of up to £80.
Related Internet Links
The BBC is not responsible for the content of external sites.