Bench ends stolen from Cheltenham Racecourse station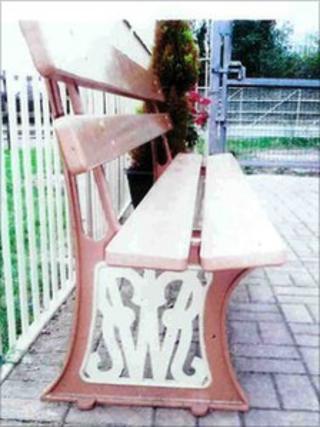 Cast-iron bench ends worth about £4,000 have been stolen from a railway station platform in Gloucestershire.
The bench ends which each weigh about 55lb (25kg) were taken from Cheltenham Racecourse station last Friday.
Some are original but most are replica Great Western Railway pattern castings, with the letters GWR on them.
Police said the theft, which happened overnight, was not caught on CCTV. Officers have appealed for anyone with any information to contact them.
Gloucestershire Warwickshire Railway's volunteer Cheltenham area group looks after the station.
'Shadowy figures'
The group's chairman Col Bob Stark said the castings would not be worth much as scrap.
He explained a volunteer reported that the benches had been dismantled at about 1740 BST on Friday. They searched the station and found the castings stacked up in a hedge.
He said: "We called the police and organised some help to move these very heavy items to safe storage.
"But when we returned little more than an hour later, they had disappeared."
He said CCTV tape showed cameras at the station being removed "by shadowy figures using flashlights".
"It saddens me greatly that the people who did this would describe themselves as railway enthusiasts," he added.
"They're clearly knowledgeable and well aware of the value of Great Western Railway artefacts and I believe that they have a ready market.
"They could have been taken to order for collectors or another former Great Western heritage railway."
The railway is offering a £500 reward or information leading to the recovery of the castings or the catching of the thieves.
Col Stark said other railways, auction houses and the Heritage Railway Association had been alerted.
A Gloucestershire Constabulary spokesman said officers had alerted scrap yards in the area to the theft.