Purton Hulks taken over by British Waterways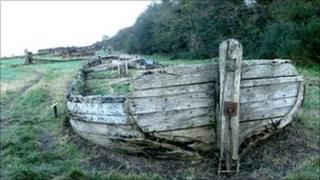 A ships graveyard on the banks of the River Severn in Gloucestershire has been taken over by British Waterways.
The site, known as the Purton Hulks, previously had no formal owner and the vessels have been subject to vandalism.
The Friends of Purton have been campaigning for it to be properly protected for 12 years.
They said they were "overjoyed" that British Waterways, which looks after 2,200 miles of canals and rivers, has become the owner.
One hundred years ago, locals began deliberately beaching the boats to help shore up the Gloucester and Sharpness Canal, which runs alongside the River Severn.
'Fighting chance'
Paul Barnett, chairman of the Friends of Purton, said: "This is a great day for these last remnants of our maritime history.
"For too many years we have witnessed our heritage being habitually destroyed by vandalism and arson, now at last British Waterways, by taking this monumental decision, have embraced the challenge to ensure that these few remaining relics to are to be given a fighting chance."
David Viner, from British Waterways, said it had become increasingly important to ensure the site, which has 81 derelict vessels, had an owner to look after it properly.
He said the organisation owned the land immediately alongside the canal.
Mr Viner said it could raise awareness and show a staff presence to tackle vandalism.
"A lot of the vandalism is because people don't realise the significance of the boats," he added.
"Our first responsibility is to make sure the site is protected."